News Update - February 2020
Engineering notes
The brake blocks, hangers, cross stretchers and pull rods have all be fitted to the loco and connected up to the handbrake and steam brake cylinder. The handbrake works and so does the steam brake cylinder when tested on compressed air.
The lubrication system is now being fitted to the pony tucks. This involves machining various pipe connections, shaping pipes to follow the contours of the pony truck framework without fouling any moving parts and making various support clips for the pipes.
The boiler/firebox construction has started. At present this has consisted of marking out the first piece of a wooden template for the positioning of the stays from the drawings. This template will then be positioned over the appropriate section of platework for positioning and drilling of the stay holes.
Publicity
The Future Fund (FF) Appeal published in last November's Severn Valley Railway News has to date brought in almost £7,000 in donations, plus a good number of monthly standing orders into the FF. If we take into account the 25% Gift Aid that the bulk of these donations and standing orders will attract, this means that the appeal represented a very good investment, and I would like to thank all of you for your great generosity. It's hard to gauge what sort of future we all face, and I am determined that we should be able to fend for ourselves as fully as possible for as long as possible in a hard world. Thanks again!
Gresley Teaks
You may remember that, a couple of years ago, we advertised for sale a number of two-and-a-half inch gauge Gresley coaches in various stages of completion. These had been donated to the Trust on behalf of a gentleman who had passed away while engaged in his labour of love. One coach is complete, and we have - as far as I can judge - the materials needed to finish the others. They really are works of art, and it is a great shame that no one came forward with even a modest offer for them. They have been stored at my sister's house for the past three years or so. Very sadly, my sister unexpectedly died in the autumn, and her house now needs to be cleared.
It would be terrible to let these lovely coaches go to house clearance, and I'd far rather let them go for nothing to anyone prepared to make the journey to Cheshire to pick them up. Please let Chris know (telephone 01928 787255) if you're interested.
Annual General Meeting
Don't forget Saturday 4th April at 14.00 in the upstairs lecture theatre at Kidderminster Railway Museum.
Arrive in good time and (if you like it) fortify yourself with a bowl of KRM's excellent chilli-con-carne!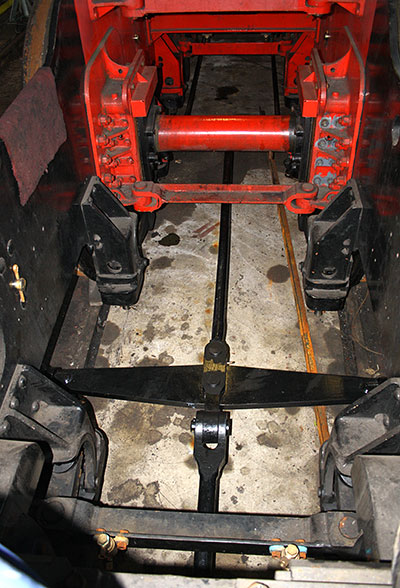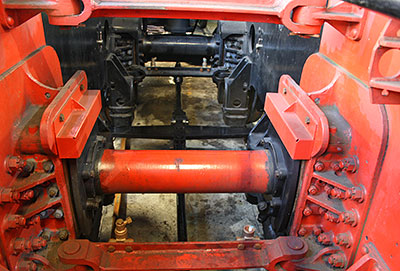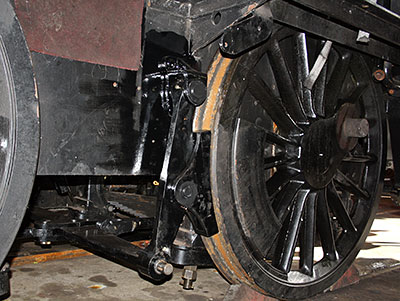 Three photos, showing various aspects of the brakes. Photo: Tony Massau.
A short video showing the steam brake cylinder working on compressed air, filmed by John Pagett.