History
The genesis of the Swindon-built Riddles Class 3 engines (82000 prairie tanks and 77000 moguls) is somewhat different from that of many of the other BR Standard designs, which were essentially developments of LMS types. As no existing LMS boiler was available which would suit a Class 3 loco, whilst still allowing weight to be kept within acceptable limits, it was decided to use a slightly adapted version of the Swindon No.2 boiler (the barrel was shortened by 5 13/16 inches) as fitted to the GWR Large Prairies and 56XX 0-6-2 tanks.
The result was a neat, well-proportioned tank loco and an (arguably) elegant mogul. It is true to say that both types displayed a certain originality of design, and they may be regarded as Swindon's final fling with steam.
The 82000 class started to appear in 1952 and worked on branch line and secondary main line duties, widely distributed throughout England and Wales - see Allocations. The locomotives were destined to have a short life - not in any way due to their own shortcomings but simply because they had come along too late in the day - and unfortunately were prematurely taken out of service and all scrapped in the final years of British steam.
82045 itself should have been built at Swindon as part of British Railway Lot 415 and would have entered service early in 1956 had the Modernisation Plan not intervened, resulting in the cancellation of the order. The class as planned should have numbered 63 locomotives, but only 45 were built. It was unfortunate that their introduction in the early to mid 1950's should have coincided with the general rundown of the rail network, and much of the work for which they had been intended was soon to disappear. In particular, the curtailment or closure of many of the longer branch lines, together with the introduction of dmu services, robbed them of what would have been their natural stamping ground.
What is unarguable is that they did not have a fair innings: built for an optimal economic working life of 40 years, the longest-lived member of the class, no. 82019, only made 14 years 10 months, while 82043 lasted just 8 years and 8 months. What a shame, and what a terrible waste of an investment!
There remains in certain quarters the opinion that the Riddles Class 3 tanks were not very good engines, though this is not borne out at all by many of the men who worked on them. They were generally welcomed wherever they were sent - allegations of poor steaming were ascribable to poor shed maintenance - and what is particularly telling is that the hard-bitten GWR crews of Machynlleth after initial hostility came to accept them as worthy replacements for the 45XX and 55XX Small Prairies they had driven and fired for so many years and achieved some fine performances with them over the Cambrian, almost until the end of steam in that area.
The class was used on just about every conceivable duty except for express passenger workings, and could turn in some sparkling performances when necessary, being fast, free-running engines with excellent powers of acceleration. The melancholy swan song of the 82's was provided by 82029 as late as July 8th 1967, when the engine was taken off station pilot duties at Waterloo and, covering for the failure of the booked locomotive, worked the 07.18 passenger turn to Salisbury as far as Basingstoke. On arrival, it was moved on to the mpd and condemned, never to turn a wheel in service again. Shame!
Although the last two Class 3 tanks in service were nos. 82029 and 82019 - eking out their final months in woebegone condition at Nine Elms - three more survived until after the end of steam. Nos. 82003, 82031 and 82034 were all stored at Patricroft (Salford) long after withdrawal. One of these had run very few miles since its final overhaul, and enquiries were made about saving it, but the price being asked (£1500 - but a lot of money in 1968!) was too high and the trio went for scrap at Cashmore's in Newport, South Wales. Broken up as late as October 1968, it is tantalising to think what might have happened to them if they had managed to get a few miles further to the west and ended up at Barry. I probably wouldn't need to be writing this!
So that was it: undeserved oblivion after an unforgivably short life. Please help us to put this right and to return the Riddles Class 3 tank to precisely the sort of duties for which it was conceived in the early days of BR.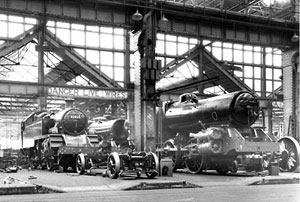 82023, 82025 and 82028 under construction in Swindon Erecting shop. 31st October 1954.
Photo: Brian Morrison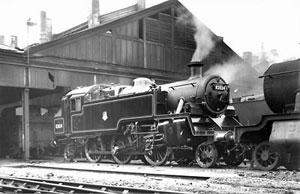 82024 on Swindon shed in light steam 2 days after completion, 31st October 1954.
Photo: Brian Morrison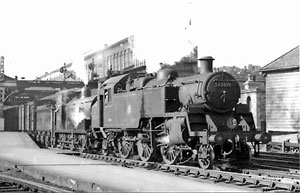 82019 Exeter St Davids 9th July 1956.
Photo: Frank Hornby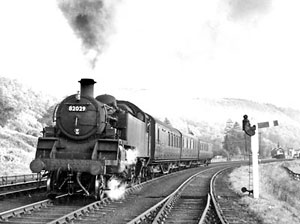 82029 leaving Levisham station 13th October 1961. Photo: Hugh Ballantyne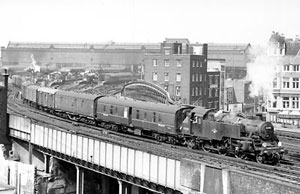 82005, Waterloo 4th May 1965. Photo: Peter Groom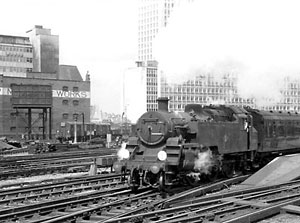 82019, Waterloo 6th May 1967. Photo: D Swetnam