82045 Future Fund
A long and active life for 82045
Nothing beats being independent, and the team are determined to ensure that your engine is a living, breathing entity for as long as possible. After all our mutual efforts, none of us wants to see 82045 cold, stuffed and mounted in a museum a few years down the line, and for this reason, we are making one more appeal, this time so that such a scenario cannot occur.
When the engine enters service, we will continue to keep a close eye on it and will look after a ring-fenced dedicated bank account aimed at ensuring that funds are always available to maintain and repair it. Steaming and hire-out fees will provide us with an income, but, as has always been the case during the building of the new loco, the backbone of our support is the monthly standing order. If you already contribute to one of the other 82045 Steam Locomotive Trust accounts, we would like to ask you if you would be prepared to continue with your monthly payments when 82045 is up and running.
The Trust has never received any money from outside sources, and the astonishingly successful funding of the project (approximately £900,000 raised so far, with about another £100,000 still needed to complete the job) is 100% down to you.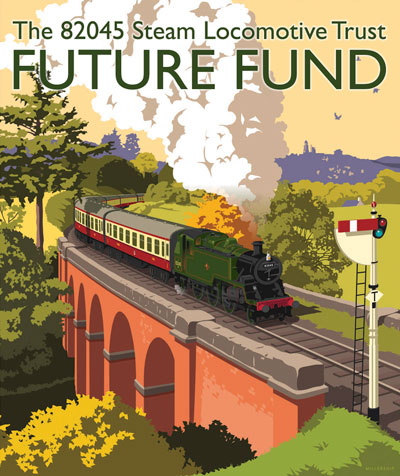 When the job is done and a BR Class 3MT tank is in the land of the living for the first time in more than half a century, we will still need to keep our finances - and the locomotive's future - healthy. If this is the first appeal that has caught your attention, please consider setting up a standing order into the Future Fund.

Please Download the Future Fund Appeal Form (PDF) where you will find details of how you can help 82045 into the future. Thank you!