News Update - November 2020
Engineering notes
By Tony Massau
The latest lockdown has curtailed our activities at Bridgnorth once again. Until then work had been continuing as previously with the main emphasis on the two pony trucks whilst the full time boilersmiths continued with firebox work. The front pony truck was fitted on to its wheels on the last day before the lockdown came into effect.
Proposed Memorial Special Train

By Chris Proudfoot
Thanks to all of you who responded to my request (see October updates) for suggestions for a name for the train we are planning to run when 82045 enters service. I now have some good ideas, but would still welcome further suggestions. It is important that we get this exercise right: we know that we have a responsibility to all the folks who have helped the locomotive along the way, and those who invested their hopes in us will never be forgotten.
Annual General Meeting 2021
Please keep your fingers crossed that we are able to have a proper AGM next year.
For your diary, the date is Saturday 24th April 2021 at 2.00 p.m. in the upstairs Lecture Theatre at Kidderminster Railway Museum. Thanks to David Postle, Museum Curator, for reserving this date for us.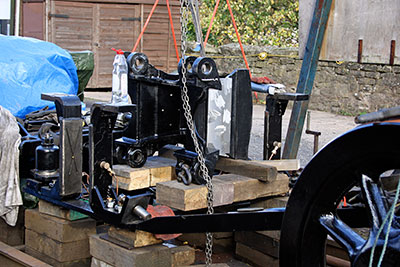 The centre pivot slide section of the rear pony truck upon completion of fitting the rubbing plates for sideways movement (the shiny rectangular plate to the right of the chain on the hoist). Photo: Tony Massau.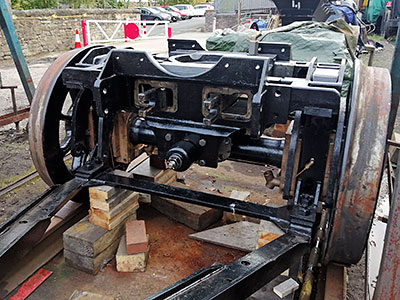 The front pony truck on its wheels. Photo: Peter Line.