Engineering notes
Whilst we are not able to go to Bridgnorth some small amount of work has taken place off site. Richard fraser has machined some lubrication pipe fittings and John Pagett has drilled condensate drainage holes in some sand ejectors that at one time had been fitted to a diesel loco. Philip Oldfield Engineering has been able to continue machining the regulator valves.
We look forward to being able to return to Bridgnorth whenever that becomes appropriate.
Publicity

Donations to the Future Fund Appeal continue to trickle in, five months down the line. I have cheques worth over £1,000 to pay in at our bank as soon as I can get to Northwich.

Thanks so much to all of you who have contributed to this important fund. The situation facing us all at present underlines the importance of looking after our interests and looking to the future of 82045 as well as we can. It would not be very sensitive for us to undertake any more appeals for the time being, especially when the SVR needs all the help it can get: we stand or fall with our home railway, as I remarked in last month's notes. Nevertheless, please don't stop sending us money if you feel inspired to do so! The photographs accompanying Tony's engineering notes demonstrate how close to the home stretch your loco is.
A GWR Fireman on the 82XXX class

Tony Cousins has sent me an extract from "A Loco Fireman Looks Back" by Ray Gwillam, who worked at Laira and then Swindon depots. After lambasting some of the other BR Standard classes, Mr Gwillam had this to say about the 3MT tanks:

"So we come to the only other BR class which I fired - the 82's. These I first had when on Trials crew [presumably when he was based at Swindon mpd]; and, remembering my experiences with the 5's I was not looking forward to getting on board. But, there being no alternative, get on board I did, and from then on, things went well. The cab was roomy, the engine rode like a dream, she was fired in precisely the same way which I would have fired a 51xx (apart from being on the left); and in every department, she was superior to our 51xx, the nearest comparison. I found nothing whatever to complain of - and I can assure you that, for the first half an hour, I searched for faults! In short, I could have wished for nothing better..."

In fairness to the Standard Class 5's, I think most of his objections to these engines may have stemmed from the unaccustomed firing position he was forced to adopt. With a relatively long firebox, a left-hand drive loco could have given trouble to someone after a lifetime of firing GWR types; whereas the smaller box of an 82xxx would have presented fewer problems. Nevertheless, this is praise indeed, and it echoes the writing of Norman McKillop ("Toram Beg"), who worked on the class in the North East when he was based at Darlington; he also compared them favourably with the native product, in his case, the A8 tanks (I think).

Tony also told me that he once met a former Worcester fireman - "Worst engines I ever worked on" - and promptly reminded the chap that they had been built at Swindon: "That shut him up!"

It will be very interesting to see what today's enginemen make of 82045!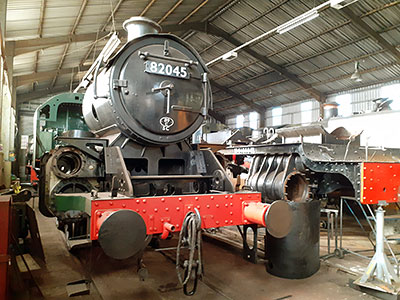 82045 slumbers inside the erecting shop. Photo: Martin White.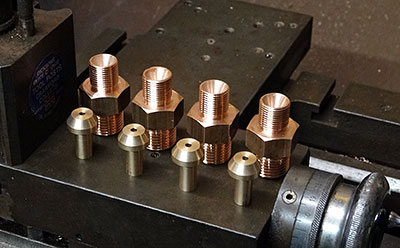 Lubrication pipe fittings. Photo: Richard Fraser.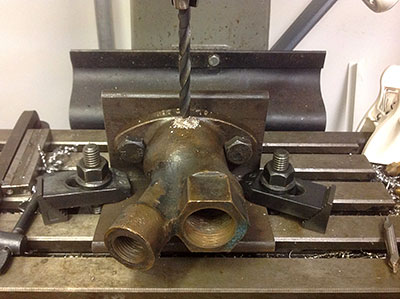 Sand ejector. Photo: John Pagett.