News Update - September 2008
82045 FUND ACCEPTED INTO SVR ROLLING STOCK TRUST

We are pleased to announce that the Board of the SVR's Rolling Stock Trust decided at its meeting on 8th September to admit The 82045 Steam Locomotive Trust to membership. The full implications of this have still to be studied, but it is very good news for us and we wish to extend our thanks to the Trust Board. A more detailed item will appear on the website in due course.
FRAME MACHINING
The frame plates are set up on the milling machine at the Boro' Foundry but a failure of the magnetic clutch has slowed work down. We are still expecting delivery in time to get a coat of paint on before the weather turns.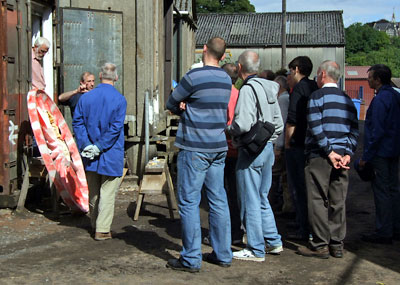 Brian Oldford explains some of the mysteries of pattern-making to a group of interested onlookers outside the Pattern Shop. Seen next to him is one of the driving wheel pattern halves for 82045. The other is now virtually complete and the pattern will soon be ready for casting once sufficient funds are in hand. [Photograph: Jim Norman]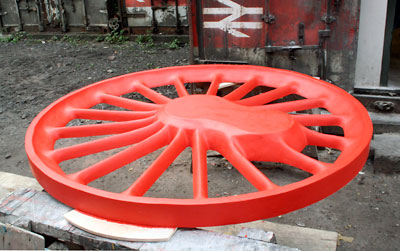 One halve of the pattern nearing completion. There's a blow-by-blow account of its construction on the GW(SVR)A website.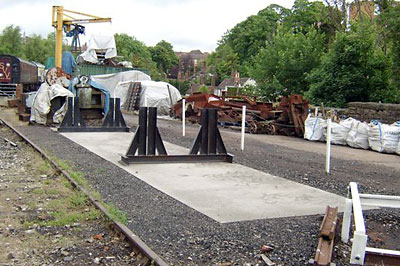 The completed concrete pad at Bridgnorth with the frame supports set up ready for the delivery of the frames.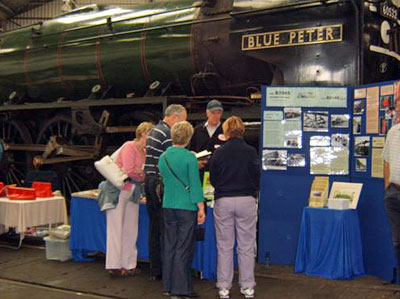 The 82045 Steam Locomotive Trust information stand at Barrow Hill set up in front of 60532 Blue Peter.