Engineering notes
The smokebox and chimney returned to their rightful place for the Severn Valley's Autumn Gala and made a pleasing front end appearance of the loco. The left hand cylinder is now secure with its fitted bolts. The right hand cylinder has been removed, everything cleaned down and has been re-fitted with temporary bolts which are now being exchanged for the permanent fitted bolts. Once this job is complete the rear cylinder covers can be fitted which will enable accurate dimensions to be obtained for the manufacture of the slidebars, the forging of which is in the programe. The cross heads have been cast and are being machined. Grateful thanks are due to the Bury Standard Four project for the loan of their cross head patterns.
An order has been placed for the manufacture of the expansion links and die blocks with Stephenson Engineering who have previous experience of the manufacture of these components.
Machining of the manganese liners of the leading pair of axleboxes is proceeding well.
The cab window frames, front and rear, have been cast and are being machined as a homework project by a supporter.
Publicity
Readers of Steam Railway magazine will have seen that 82045 had quite a splash in the latest issue, with an article, full-page pic and appeal leaflet. It is still too early to quantify the results in terms of income/new members, but it was nice to have a bit of exposure after a fairly quiet period. The one thing we didn't manage - for perfectly good reasons - was the front cover I'd hoped for, but I saw Assistant Editor Toby Jennings at the SVR's Autumn Gala and we discussed we discussed ideas for future publicity.
Our printers, Prism Design and Print of Northwich (Cheshire), have produced a new leaflet for the launch of the Future Fund: I think it's the nicest one we've had yet, so I hope it will have the desired effect!
Fund-raising
The financial situation remains healthy, but the very last thing we can afford to do is become complacent: you think you've got a nice balance in one of the accounts only to find that this is devastated after one short session of cheque-writing: £45,000 worth on one morning in late August alone, for instance, which brought a tear to my Calvinist eye.
I am in the process of building up the cylinders/motion account at present, in anticipation of some mighty cheques that will have to be written over the next six to nine months. With work due to start on the firebox this autumn, I am also nursing along the boiler account to ensure that the necessary funding is always in place. It is hard to quantify with any degree of precision how much we still need to raise to finish the engine, but I'm pretty sure I can keep the collective financial nose as clean as it has always been, thanks both to our splendid engineering team and to all of you who have supported us throughout the years of the project. In view of all this, it might seem odd to be launching the Future Fund at the same time as we continue to appeal for funds for the present, but I am convinced that we need to be gearing up now for the time when 82045 is a working locomotive and I hope you will agree that to remain independent is of paramount importance.
Autumn Gala
We had a fairly low-key presence at this year's event, but it was gratifying to see how much attention 82045 generated from visitors to Bridgnorth: what a difference a smokebox door makes! A couple of people commented on the engine's lamp brackets, asking why - in view of the green livery - it is not carrying WR-type brackets. The answer to this is that we inherited the existing brackets from Devon, along with some other SR regalia (would anyone like to make an offer for a replica 72A Exmouth Junction shedplate? Get in touch with Chris if so).
There is an adaptor (the SVR has some) that can be used to convert the brackets to the side-hung WR pattern, but if anyone would like to sponsor a set of eight of these, please get in touch. The chaps who raised the question, for instance, might like to consider this! Tony has made the point that the dearth of loco lamps in general makes it wiser to keep to an arrangement whereby either type can be used.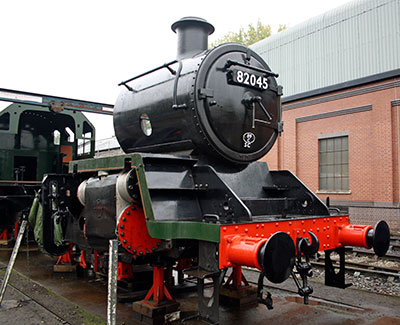 Front view of 82045 at Autumn Gala weekend. Photo: Tony Massau.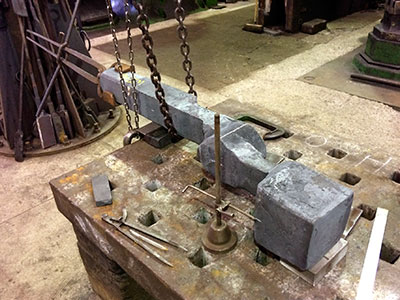 Forging of a lever for the drivers reversing mechanism. Photo: Robert Stephenson.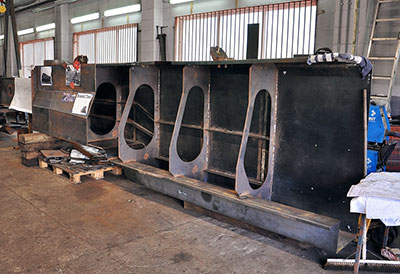 Right hand water tank, left hand one in distance behind. Photo: Frank Cronin.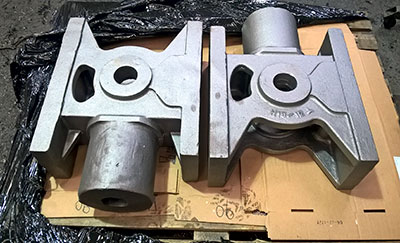 Cross head castings. Photo: Peter Line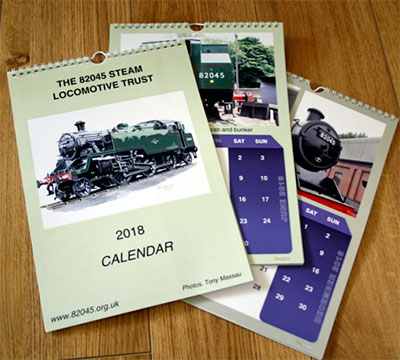 Our 2018 calendar is now available at the same price as 2017 - £6.00 + £1.25 p&p. Please send your request and cheque payable to The 82045 Steam Locomotive Trust (SLT is fine) to Barbara. Copies are limited this year as too many were wasted last year so don't be disappointed and get in touch!
And a reminder of what we are working hard to achieve!