News Update - October 2019
Engineering notes
Mendip Steam Restoration Ltd. who are manufacturing the dome for the boiler paid a visit to Bridgnorth recently to check that the section of steel plate which will be used to form the flange of the base of the dome sits correctly on the boiler barrel. As this plate is one inch thick it is important to ensure that it correctly follows the contour of the top of the boiler barrel before construction of the dome proceeds further and thus makes any additional manipulation of the flange more difficult.
Much attention has been devoted to the pony trucks in recent weeks withe the result that the rear truck has been assembled, apart from wheels and axleboxes. However the tuck has been partly dismantled again in order for the swing links to go away for case hardening. Attention has turned to further progress with the front pony truck.
Some in house machining work has been devoted to the pony trucks of late, but some progress on other components has also taken place such as boiler water level gauges and parts of the carriage warming reducing valve. Some other components are being sent out to contract in order to keep progress moving.
The coal bunker had only been partly bolted down on to the loco frames ever since it was installed, however this job has now been completed.
Manufacture and fitting of cladding sheets around the steam chests continues as does refreshing the paintwork around the front of the loco.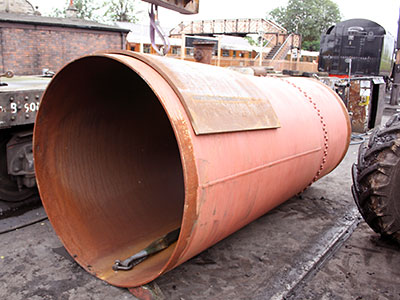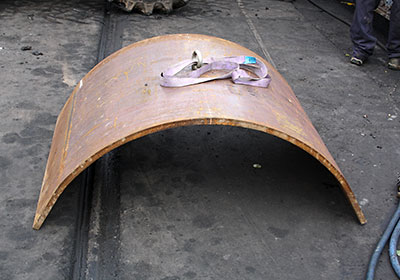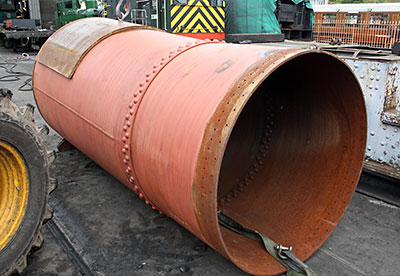 Three photos of the curved section of steel plate which will form the base flange of the dome. Photo: Tony Massau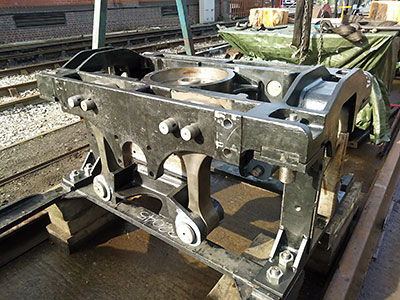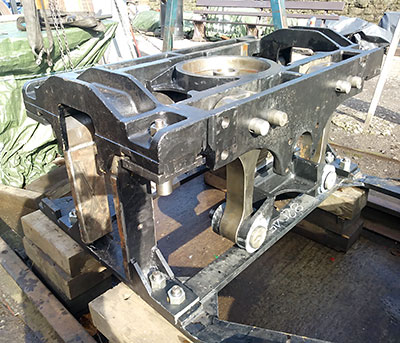 Two photos of the rear pony truck trial assembly. Photo: Peter Line.
A very short (6 second!) video showing the side control movement of the rear pony truck, taken by Peter Line.