Engineering notes
The brake-shaft is now fitted between the main frame plates under the cab. Machining of the brake hangers and cross stretchers is expected to start in the near future and forging and machining of the pull rods is in progress. We have the brake blocks in storage, just awaiting machining.
Manufacture of the expansion links is in progress as is also the case with some of the items necessary to complete the list of pony truck components. Machining work on the axleboxes for the pony trucks in preparation for whitemetalling has been in progress in recent weeks off and on as machine availability has allowed.
Publicity
Many thanks to Toby Jennings and the advertising team at Steam Railway magazine for giving us a good splash in the current issue. Early indications are that the investment has paid off: we have recruited a number of new members (welcome to you if you're reading this!) and received several thousand pounds in donations. Most of these can be Gift Aided, which adds a very considerable 25% to the value of the donation and fully justifies the decision to become a registered charity.
I was very pleased with the way the ad turned out: I hadn't originally intended to include one, but it came as part of the package from SR. If you were intrigued by the Latin, the words delapsus resurgam are from "The Pilgrim's Progress" (70003 if you know your "Britannias") and mean having fallen I shall rise again.
OO Gauge Models of 82045
Many of you will have met member Chris Steel at AGM's and also on the occasion of Paul Anderson's memorial train "Waterloo Sunset" last year. Chris has a special line in adapting the Bachmann BR 3MT 2-6-2 tank to run as 82045, and tells me that he has a number of models (seven, I think) ready to go to good homes. There is a choice of lined black or lined green livery, and he can provide them in weathered condition and/or with DCC if required.
If you'd like one, please get in touch with Chris on cwsteel@live.co.uk
82XXX in BR Days
My good friend Neil Evans (Llangollen Railway and Foxcote Manor Society) has sent us four photographs of 82's at Machynlleth shed in the 1960's. They come from Facebook's Cambrian Railway Mid Wales Division, which is administered by Andrew Dyke of Oswestry, and they are new to us, so we thought you might like to see them. Please click on each image for a larger version.
The tanks were well-liked by the blokes at 89C - despite the usual GWR aversion to anything not carrying a four-digit cast number plate on its cab side - and performed some excellent work over the Cambrian, sometimes with heavy loads in the holiday season, which is a useful counter-argument whenever doubts are expressed regarding 82045's ability to cope with the SVR and other longer heritage lines!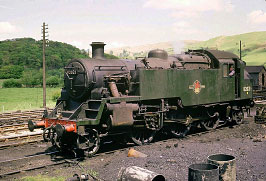 82021 is seen in unlined green livery against a lovely backdrop.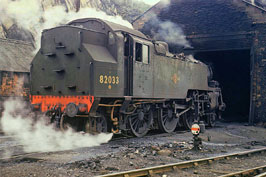 82033 in grimy lined green outside the shed.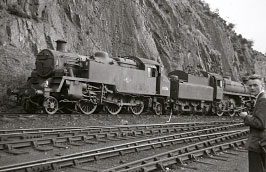 82034 - one of the three examples that survived until October 1968 - bunker to tender against an unidentifiable BR 75XXX 4-6-0.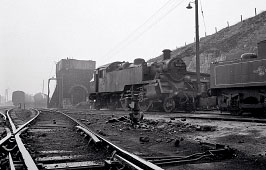 An atmospheric shot, on a very gloomy day, of 82020 and the tender of an Ivatt Class 2 mogul. I vividly remember Welsh days just like this one and peering disconsolately out at a soaking field through the steamed-up window of a caravan.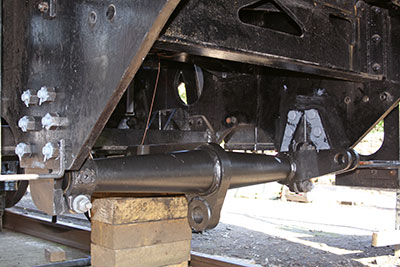 Brakeshaft fitted under the cab. Photo: Tony Massau.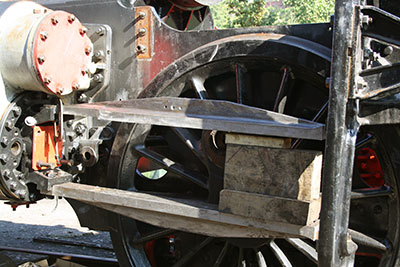 Slidebars being fitted to left hand side of the loco. Photo: Tony Massau.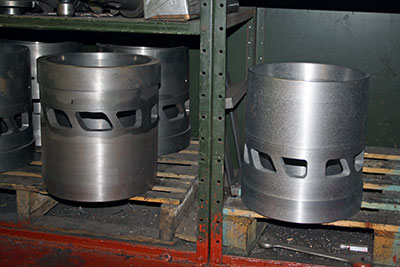 Steam chest liners having been machined by Alan Harris of the 82045 team. Photo: Tony Massau.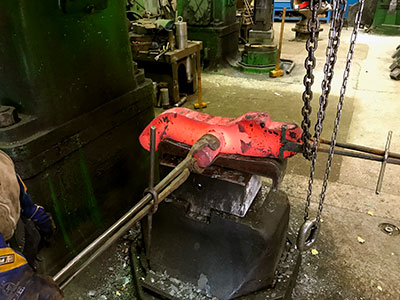 An expansion link forging. Photo: Robert Stephenson.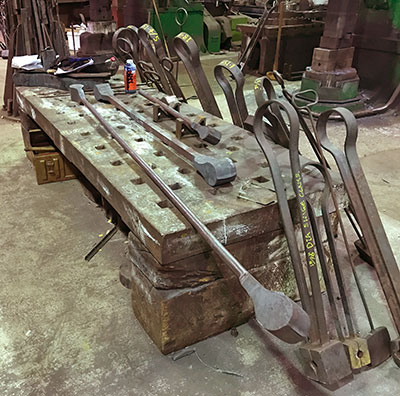 Some of the brake pull rod forgings. Photo: Robert Stephenson.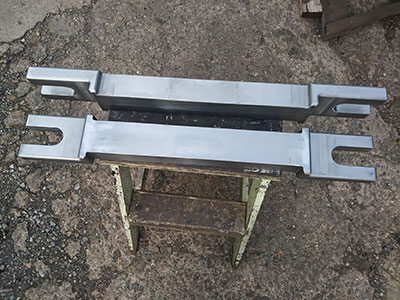 Pony truck check spring beams. Photo: Peter Line.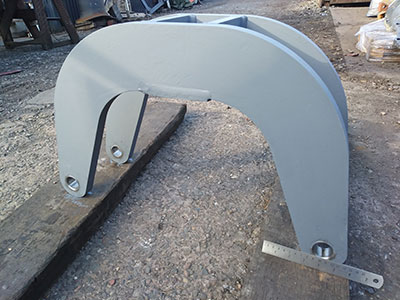 Pony truck spring yoke. Photo: Peter Line.