News Update - November 2012

Engineering notes
Attention has turned from the horn guides for leading and trailing wheels to the substantial horn blocks for the centre driving wheels. The bushes for the cross stays have been pressed in and the fitting of the manganese liner plates is in progress.

The stretchers to the front and to the rear of the smokebox saddle have had the holes reamed through the main frame plates and cold rivet manufacture is in full swing in anticipation of getting these stretchers riveted in.

The forged connecting rod blanks in EN16 steel have been manufactured by Somers Forge Ltd. Machining will probably take place at a later date as funds permit.

A member has kindly offered to sponsor the casting of the spring brackets for which we are very grateful.
Component Sponsorship
The response to our initial appeal last month has got off to a very encouraging start. We would like to place on record the following members who have sponsored the following components:

Rob Barlow: casting of all twelve spring brackets
Andrew Turner: 50% of one connecting rod forging
"Mr X": one connecting rod forging

The combined value of the above is over £13,000 - many thanks to all concerned! In addition, we are anticipating sponsorship of the two anti vacuum valves (one for each cylinder - that prevent exhaust gases being drawn back into the cylinders when coasting) within the next few days. We will shortly be publishing details of the brake shaft bearing bushes and also of castings for components for the rear pony truck assembly, as we plan to order these items in conjunction with another (non-SVR) group whose engine has the same rear pony assembly as the Riddles Class 3 tank. This makes good financial sense, as both groups may benefit from - hopefully - economies of scale and therefore a lower cost for these items.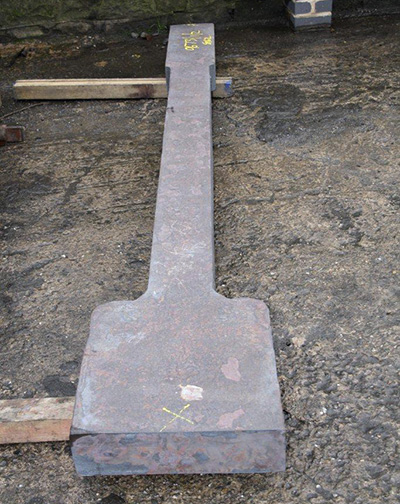 One of the forged connecting rod blanks.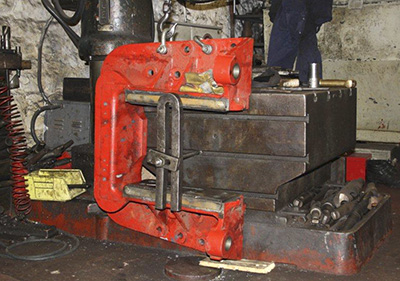 One of the horn blocks on the radial arm drilling machine.
Sponsor a Part

Following a number of enquiries from our supporters, here is the first list of parts for possible sponsorship - November update:

Motion

Half the cost of one connecting rod forging £2,750-00
[one and a half forgings have already been sponsored]

Cylinders

(currently on order and awaited)

Item

Estimated cost

Number needed

Anti-vacuum valves

£300-00

sponsored!

Drain cocks

£675-00

6

Wheels

Pattern
£3,560-00
1
Driving wheels
£9,500-00
6
Axles
£2,540-00
3
Axle boxes
£625-00
6
Axle box under keeps
£350-00
6
Springs
£800-00
6
Spring bracket castings
£712-00
sponsored!
Crank pins
£750-00
6
Tyres
£1,798-00
6

Please contact Chris if you would like to discuss any of the above. He will keep a record of all sponsorship, but please tell him if you prefer to remain anonymous. All sponsors will receive a nice frameable certificate.

We will soon be publishing additional lists of items for the front and rear pony trucks as well as boiler/firebox components, but for the moment are concentrating on the work at present in hand - namely, the cylinders and driving wheels.

Thanks very much for reading this - we hope you will feel inspired to have a piece of 82045 you can claim as your own!