Engineering Notes
82045 is now inside the erecting shop at Bridgnorth for work to continue without our team being subject to the weather. However our loco is not there on an indefinite timescale with no end in sight for completion of the construction. We are expected to have the lower half of the loco completed by the time the boiler will be ready for fitting into the frames so the continued support of all our members and hopefully some new ones is as vital now as ever.
Still outside at the present time is the trial assembly of the rear pony truck. The axleboxes for both pony trucks are expected back from whitemetalling at Osborne Engineering before long which will enable final machining to take place at Bridgnorth before they take up their role in the build of the pony trucks. Work continues to progress with machining of the boiler water level gauge frames, carriage warming reducing valve, piston rods, etc.
Manufacture of cladding sheets around the steam chests continues as does somewhat intermittently progress with vacuum pipework.
Stephenson Engineering have forged the union links and combination levers for the valve gear and the pull rods for the brake stretchers. They are also manufacturing the reversing shaft.
Buckingham Palace Garden Party
Earlier in the year, 82045 received an unexpected invitation, courtesy of our patron HRH The Duke of Gloucester, to attend a garden party at Buckingham Palace. We weren't quite sure whether thirty tons of metal would do the lawns any good, so decided that the best thing would be to put the names of all our working party members into a hat. The lucky chaps were Peter Line and Martin Managhan, two utter stalwarts of the build team, and they duly attended the event on May 15th with their respective partners.
Martin has provided a short text describing the day in his usual inimitable style, and both gents have said how much they enjoyed the event. Well done, chaps, and very well deserved. As for yours truly, I disgraced myself at an early stage in the proceedings, and Martin has assured me that there's a dungeon with my name on it in the Tower! If you want a good laugh at my expense, do get in touch and I will tell you the whole grisly story.

"On Wednesday 15th May, Peter Line and Martin Managhan together with their respective wives Maureen and Teresa, attended, on behalf on the 82045 Trust, a Garden Party hosted by members of the Royal Family at Buckingham Palace. An excellent afternoon was spent sauntering around the extensive, immaculately kept lawns and gardens in unbroken sunshine and only a very light breeze. Two military bands were on hand to entertain the 8000 guests. The catering was exemplary with a wide variety of sandwiches (without crusts) and individual cakes, ice cream, and hot and cold drinks.
Our representatives were not fortunate enough to be presented to the hosts (HRH Prince Charles together with Camilla, and HRH Princess Anne) but did talk to other guests including the Lord Mayor of Birmingham.
The light breeze negated the need for the ladies to spend most of their time hanging on to the amazing types and styles of hats and fascinators that were in evidence. Peter and Martin only saw one or two incidents of ladies pursuing their hats across the lawns in a faintly undignified manner.
Despite the number of attendees, Peter and Martin reported that the whole atmosphere was relaxed, refined, and genteel, (with no need for any use of elbows) and was a truly worthwhile experience and one that they were very pleased to have attended."
82037 at Bristol TM
Gerald Peacock, a long-standing SVR and EMF volunteer took this excellent view of 82037 at Bristol Temple Meads platform 1 in 1962, ex works and unusually on a van train. (Click on the image for a larger version).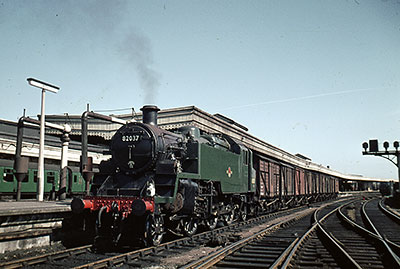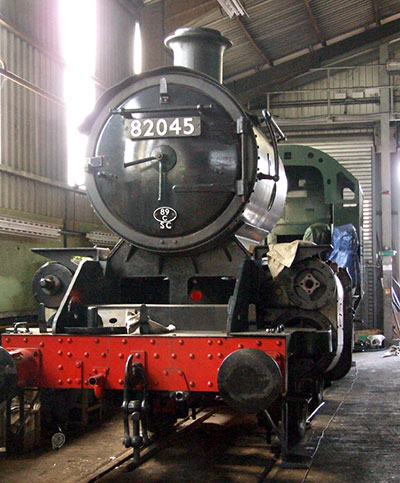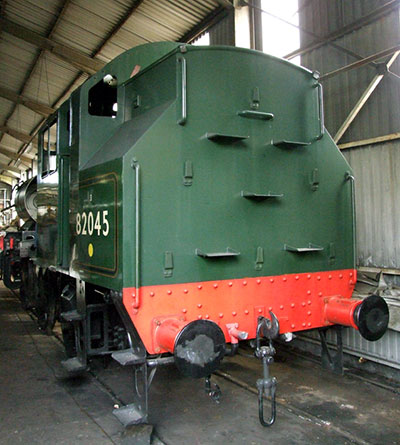 Two views of 82045 inside the erecting shop at Bridgnorth. Photos: Jim Norman.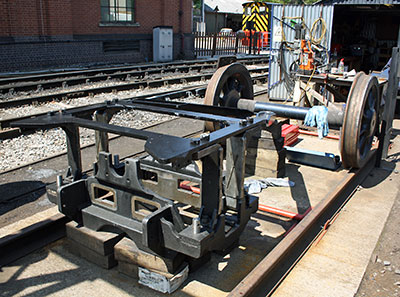 The rear pony truck partially trial assembled. Photo: Tony Massau.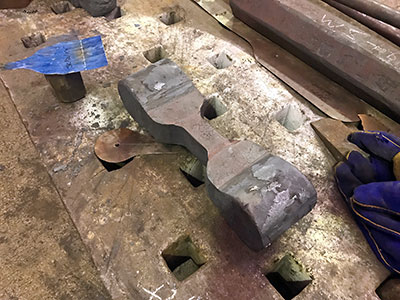 One of the union link forgings. Photo: Robert Stephenson.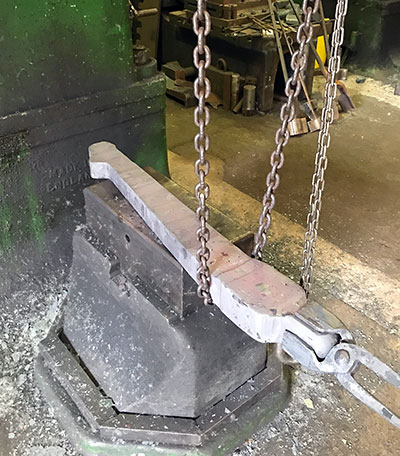 Forging in prgress for a combination lever, suspended off the chains and held with tongs. Photo: Robert Stephenson.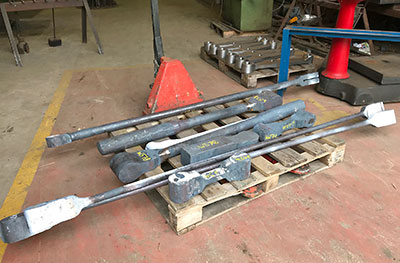 More completed forgings ready for maching including brake stretcher pull rods and a union link. Photo: Robert Stephenson.
The reversing shaft for 82045 being machined in Stephenson's works. Photo: Robert Stephenson.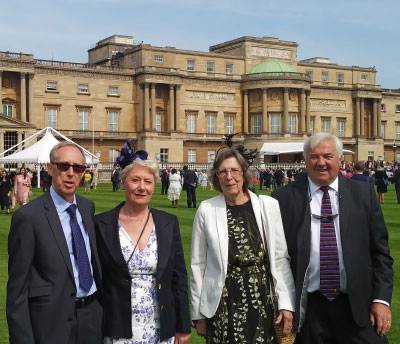 82045 at Buckingham Palace Garden Party with (l to r) Peter Line, Maureen Line, Teresa Managhan, Martin Managhan. Photo: courtsey Peter Line.