Engineering Notes
Riveting of the chassis has proceeded well with just the section around the rear buffer beam to complete. All spring brackets are now riveted in place. The frames are now being rubbed down and repainted to smarten them up.

Pipe has been obtained with the intention of making and fitting in place the vacuum pipe and train heating pipes throughout the chassis whilst access is currently easy. This job also entails making various brackets and clips to secure the pipes in their correct locations.

Axlebox machining continues, still a long way to go before completion. The boring of crank pin holes in the driving wheelsets at Buckfastleigh is well advanced with the fitting of crank pins due to follow.

Fabrication of the sandboxes has started.

A member has very kindly offered to sponsor construction of the two water tanks and the cab. We therefore have enquiries underway for quotations.
Boiler Appeal
The Boiler Appeal continues to make excellent progress, and the Trust`s aim is to reach £100,000 by the end of the year. Costings are still keenly awaited for the various components, and as soon as we have a better idea of what individual items are going to cost us, we will formulate the build plan for the boiler and firebox and start to get construction underway, the sooner the better!
There was an excellent response to the launch of the appeal in SVR News in early March, both in terms of capital raised and in terms of new standing orders. The latter are admittedly slow burners, but they are invaluable in that they build up a reliable monthly income for 82045 and enable us to calculate our spending potential with a high degree of accuracy. The Railway Magazine article - which was accompanied by our appeal leaflet has attracted favourable comment and is also showing a good return.
The appeal will continue in phases until the job is done. Further details will appear as soon as possible but in the meantime, we have had an entirely unexpected boost thanks to the efforts of SVR fitters Will Marsh and Gary Williams, who are doing a sponsored parachute jump in mid-August to raise funds for the boiler. Initial details of this were given in the updates for May, since when the brave pair (pictured) have been energetically twisting the arms of volunteers up and down the Severn Valley Railway and are bringing in some great results. Thanks so much, gents!
We are particularly pleased that two full-time members of the Railway's staff have taken 82045 to heart in such a spectacular way: it indicates the ever-deepening relationship between the Trust and our home Railway; something which is going to be absolutely essential for the early completion of the loco.
Fund-Raising and Publicity
As outlined in the previous section, focus on fund-raising is concentrated on the Boiler Appeal, though we are keeping a careful eye on other major parts of the build, especially the pony assemblies (we don't know with any degree of accuracy what these are going to cost) and the motion (costed). We are pretty confident that assured income streams will take good care of these when the time comes to pay for them.
The 82045 project differs in three respects from all others: (a) it is a genuinely new engine; (b) it represents a modern type which is not associated with any particular area of the country and will look "right" more or less anywhere it runs; and (c) it represents a stab at providing a practical prototype for heritage lines to perpetuate if they wish, rather than being conceived of the very understandable desire, individual or collective, to see a long-departed design back in the land of the living and charging along the main line.
Trust volunteer, Colin Williams said at our AGM that we should market the tank as "The People's Engine" (pace 46443), and went on to explain that, when running, she will be accessible to people of modest means to experience living steam close at hand and to travel behind for a modest outlay, rather than being the preserve of the more well-heeled members of the enthusiast fraternity who can afford the considerable cost of travelling behind steam on the main line. It's a good thought, and one that I might well develop over the remaining life of the project, so thanks Colin - I bet you thought I'd forgotten all about it!
Sponsorship
Many thanks to Trust member and generous supporter Andrew Turner of Bromsgrove and also to Richard Prescott of West Molesey who sent cheques in sponsorship of driving wheel springs - very necessary but not very exciting components. Thank you gentlemen! Further items will be offered up over the next months, so watch this space!
Peep Behind the Scenes
19th July 2014. Severn Valley Railway We will have sales stands at Bridgnorth and Kidderminster at the very popular Peep event on 19th July. Our annual draw will also take place in the afternoon at Bridgnorth – Barbara still has some raffle tickets available at £1 each (£5 per book) and our first prize this year will be two standard class tickets on a mainline steam trip of the winner`s choice so if you fancy a try at winning get in touch a soon as possible.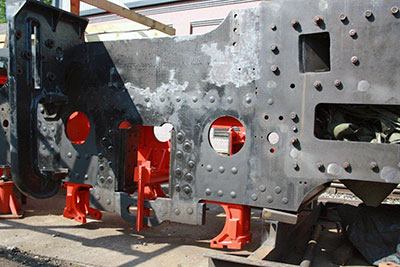 The spring brackets riveted in position and a rubbed down section of the frame prior to repainting.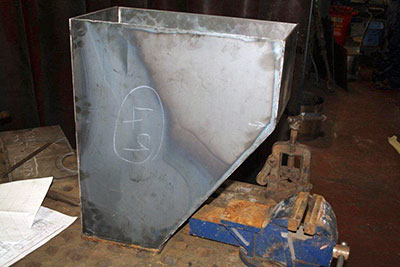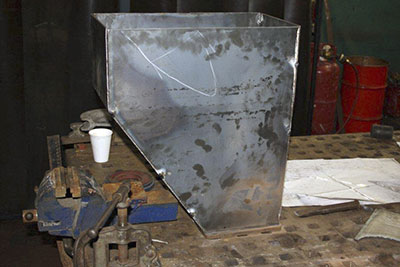 Two photos showing the first of the sandboxes partly constructed.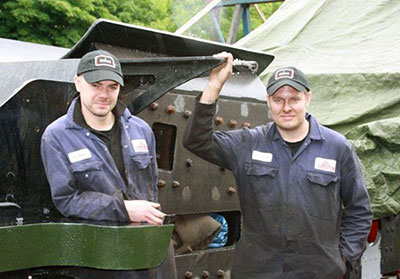 Parachute Jump
Will Marsh (left), Gary Williams and 82045 on terra firma at Bridgnorth. As first mentioned in our May update the weekend of 16th/17th August will see the most unusual event yet in the history of the 82045 project. SVR fitters Will Marsh and Gary Williams will make a sponsored parachute jump to raise funds for the boiler. The jump will take place 15,000 feet above - appropriately Swindon! An initial thought is to sponsor, say, £1 for every 1,000 feet of their sickening earthward plunge and happily sponsorship is already arriving. One very kind supporter has even sent 1p per foot – a superb donation of £300! Thanks to everyone who has already been moved to support these brave lads and to all who will help in their quest to help the 82045 boiler appeal.
If you would like to get in early with your sponsorship - cheques should be made out to the `82045 Steam Locomotive Trust`, marked Parachute Jump on the back and sent to Barbara Massau, 4 Southfield, Prestbury, Cheshire, SK10 4XF. Thanks in advance - and thanks especially to Gary and Will for this tremendous gesture.