News Update - January 2019
Engineering notes
It was November 2008 when the two main frame plates for 82045 arrived on site at Bridgnorth and were erected in two support stands on the concrete base across the running lines from the side of the boiler shop. Since that time work has proceeded on the construction of the chassis of the locomotive culminating in fitting the driving wheels last April. Since then the loco continued to reside on the concrete base on an isolated length of track. All that changed on Wednesday 23rd January when Allelys Installations Ltd. were brought in with their specialised equipment to raise 82045 a few inches of its isolated length of track and traverse the loco sideways to lower it down on to the adjacent cattle dock siding. A smooth operation carried out by a team well used to moving heavy machinery for which we are very grateful.
On Saturday 26th January, 82045 was shunted through the station and into the loco yard by Bridgnorth's resident class 08 diesel shunter. Entry into the erecting shop beckons.
In other news it is planned to give the water tanks a coat of protective paint. This won't be the proper paint job at the present time but just something to deter rust. Since delivery the tanks have resided on a wagon in a location unsuitable for work to be carried out safely but hopefully that situation will be resolved in order for the painting to proceed.
Annual General Meeting
Don't forget that this is to take place on Saturday 6th April in the upstairs lecture theatre at Kidderminster Railway Museum, commencing at 2.00 p.m.. All are welcome, as are all constructive suggestions from the floor.
2019 Calendars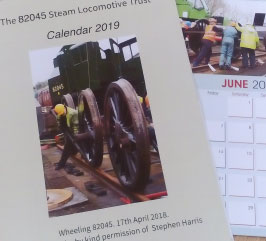 It is not too late to purchase a 2019 82045 calendar, we still have a few calendars available which may be purchased from Barbara at a cost of £7.50 (includes P+P). The calendar is a pictorial memento of the wheeling of 82045 in April 2018 and we are grateful to our friend and supporter Steve Harris for his coverage of the days events and for allowing us to use his images.
Please send a cheque payable to "The 82045 SLT " (£7.50 per calendar) and your address to Barbara who will post your order to you.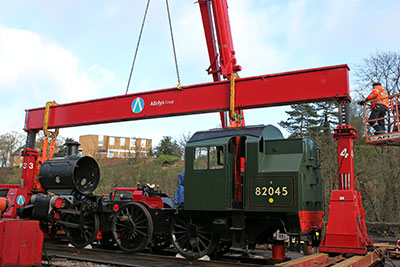 Allelys equipment in place to lift 82045 off the isolated length of track and traverse sideways. Photo: Peter Line.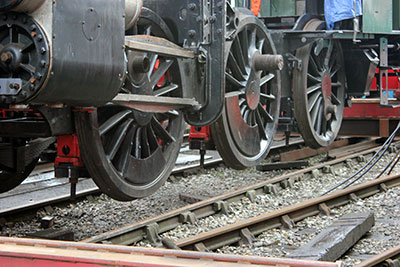 82045 lifted clear of the rails. Photo: Peter Line.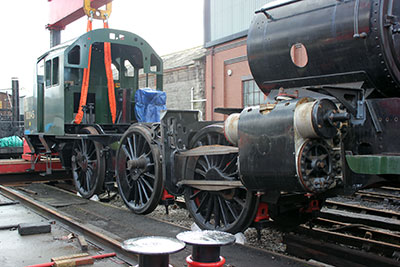 82045 safely rests on SVR tracks - a significant milestone for 82045. Photo. Photo: Peter Line.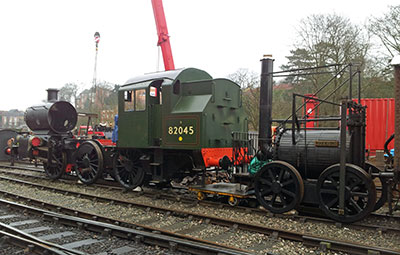 82045 on the cattle dock siding keeping company with Catch Me Who Can. Photo: John Pagett.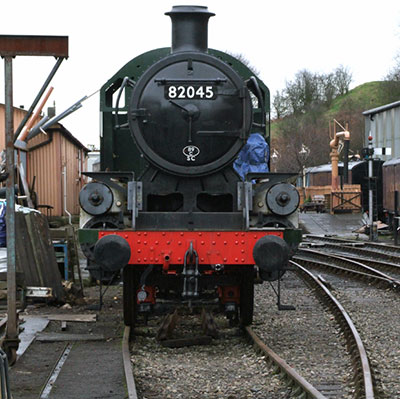 82045 with the lifting equioment packed away. John Pagett.
82045 in platform 1 by the signal box. Photo: Peter Line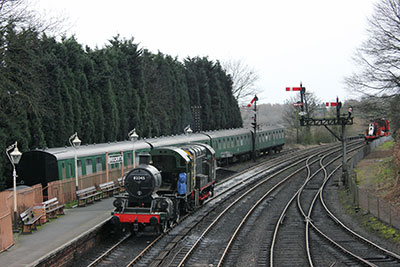 82045 passing the sleeping coaches. Photo: Peter Line.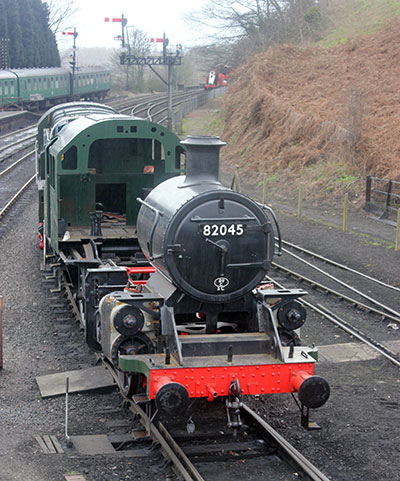 Then coming into the loco yard. Photo: Peter Line.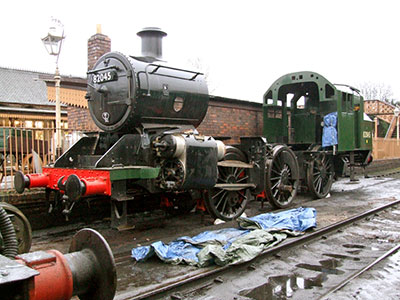 And later 82045 in the loco yard. Photo: Jim Norman.