News Update - January 2009
The castings for the locomotive's horn ties, buffer beam brackets and pony truck centres have arrived at Bridgnorth from Trefoil Steel of Tinsley and are ready for machining in the SVR workshops.
The patterns for all castings to-date have been made by volunteers in the SVR's pattern shop at Bridgnorth, so saving the Fund a significant amount in tooling costs.
The steel for the buffer beams has been cut and slotted (the slot is the rectangular hole in the centre of the buffer beam for the draw gear) by Corus at Cradley Heath, and the beams delivered to Boro' Foundry at Lye for drilling.

Tony had a positive meeting with a West Midlands metal bending company on 24th January to discuss radial bending of some frame stretcher ends. It is planned to order the steel for fabrication of the stretchers in the very near future.

A meeting has been arranged to get matters under way in regard to the Fund's becoming a charity and a company limited by guarantee. Charitable status means that donations made by UK taxpayers will attract valuable Gift Aid.

Tony and Chris have been asked to meet representatives of the Heritage Railways Association at Bridgnorth in the course of an official visit to the SVR on Sunday 1st February in order to talk about the 82045 project.

Membership of the Fund now stands at 97, including two corporate members who are well-known SVR affiliated groups.
And we have a new 82045 T-shirt - just in time for the summer! Details on the Sales page.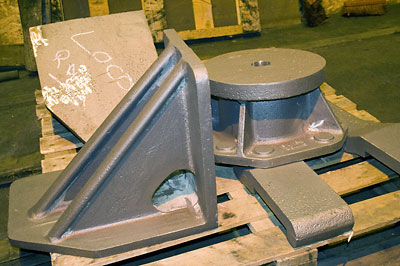 The first delivery of castings at Bridgnorth. In the foreground is buffer beam bracket, with the other one behind, to the right is the pony truck centre resting on two of the horn ties.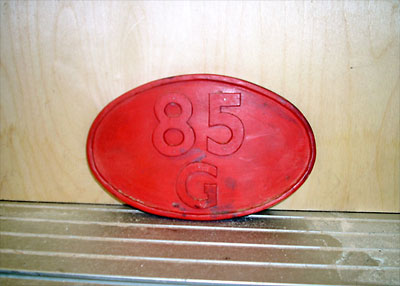 And another pattern has emerged from the SVR's volunteer pattern shop.