Engineering notes
By Tony Massau
Lubrication work continues. This involves shaping and laying out pipe runs, making connecting fittings and making clips to secure the pipes to the framework of the loco. The four atomisers for cylinder lubrication have been machined.
Some of the footplating around the front of the loco is being refitted after having been removed for a while to allow access for lubrication pipe runs and fitting the pony truck main pin.
The return cranks have been checked over and measurements taken of the key on the reverse side. These keys were deliberately left oversize to allow for final machining and adjustment on site to suit the keyways on the crank pins of the driving wheels.
ANNUAL GENERAL MEETING
Don't forget to put a note in your diary that this will be held at Kidderminster Railway Museum on Saturday 2nd April starting at 2 p.m.
This will be the first 'proper' AGM since 2019, and we look forward very much to welcoming as many of you as possible. Despite the best efforts of Covid-19, a lot has happened with the loco since we last met, so there will be plenty to tell you.
82XXX IN BR DAYS
By Chris Proudfoot
I gave a talk on 22nd to the Rail and Industrial Archaeological Society (hope I've got that right) who meet at Warton, near Preston.
One of their members, Peter Fitton, has forwarded to me some superb images of the tanks in BR days, and I'd like to start with an interesting shot Peter took of 82000 on April 15th 1965 at Skew Bridge, Preston, heading the 4.25 p.m. to Wigan.
There can't be many images of an 82XXX at work on the WCML, and this one dates from the period when four members of the class were allocated to Salford's Patricroft shed, 26F in my salad days but 9H at the time this was taken. The engines found little work in the Manchester area but, intriguingly, three lingered on in store well past their withdrawal date and weren't broken up until late 1968, a couple of months after the end of BR steam. Shame.
The second image shows 82006 at Shrewsbury shed on 21st July, 1964, sandwiched between an unidentified Black 5 and what appears to be a GWR pannier tank.
Shrewsbury was always a fascinating depot, with a mix of BR, LM and WR types. I remember, on one organised visit, ca 1962, standing next to County of Hereford when it blew off with all its might and nearly made me jump out of my gaberdine mac.
Thanks to Peter for these photographs. While I was doing the talk, I was trying not to be distracted by his splendid O-gauge model of 'Crab' which was on the table in front of me. I know this isn't about Crabs, but I always liked these businesslike locos, so different from the Stanier types that predominated in my native patch. I often think about poor old 42859: at least what's left of it is safe on the ELR now, but it would be great if someone would take it under their wing.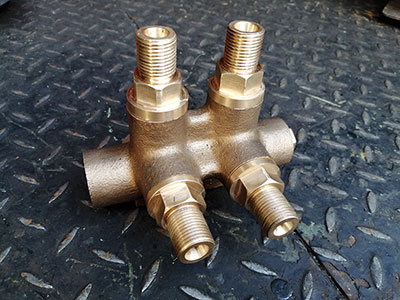 One of the four atomisers for cylinder lubrication. Photo: Peter Line.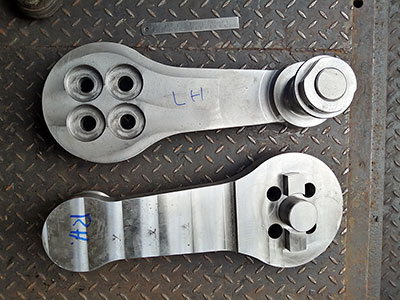 The return cranks. Photo: Peter Line.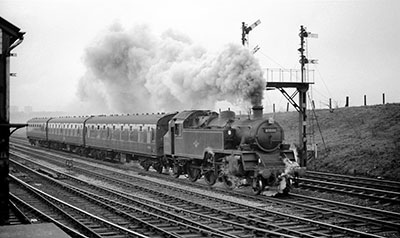 82000 on April 15th 1965 at Skew Bridge, Preston, heading the 4.25 p.m. to Wigan. Photo: Peter Fitton.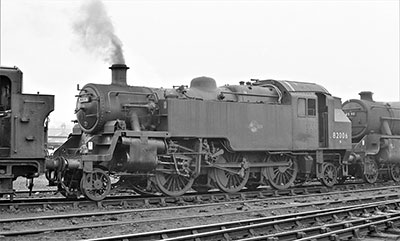 82006 at Shrewsbury shed on 21st July, 1964. Photo: Peter Fitton. Click the images for larger versions.