News Update - February 2018
Engineering notes
Hints of an announcement in recent news updates of this website seems to have caught the imagination of some readers but the reality is that we are planning to get the coupled wheelsets under the chassis soon and a move into the main workshop is on the cards some months hence but nonetheless earlier than we had at one time thought likely.
The machining of the axleboxes for the coupled wheelsets is complete and the pair for the centre axle have been tried on the journals and measurements taken to confirm the fit into the horn guides is correct. This has lead to planning the installation of the wheels into the chassis and prospective dates for this operation to take place.
Machining of the piston heads is in progress and the valve heads await their turn.
Machining of the brake shaft bearings is also in progress whilst the reversing shaft bearings have returned from whitemetalling and awaiting machining to size.
Various pins and bushes, which can go unnoticed by the casual observer, often keep someone busy on a lathe and various insignificant but nonetheless important brackets have to be made from time to time. The lubrication pipework for example will need numerous brackets to secure the pipes in place. Planning for the installation of the lubrication system has started.
The driver's reversing mechanism. Photo: Tony Massau.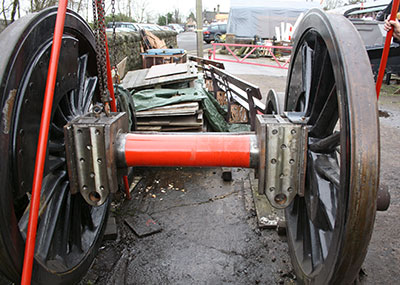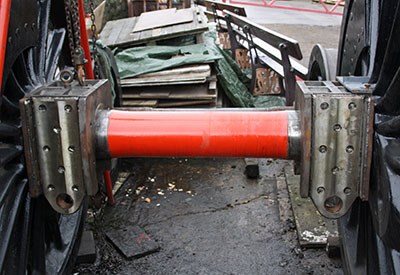 Trial fit of axleboxes on the centre axle. Photo: Tony Massau.