News Update - August 2019
Engineering notes
The machining of the axleboxes for the pony trucks is complete and a trial assembly in the frame has taken place. The crossheads have returned from whitemetalling and await machining.
Forging and machining of the first of the valve gear components has taken place at Stephenson Engineering in Manchester. Other components are in the pipeline. They have completed the manufacture of the brake block hangers and the cross stretchers.
Mallens have an order for manufacturing the various couplings, coned ends and nuts for the lubrication pipework around the chassis.
Philip Oldfield Engineering have completed the manufacture and testing of the pressure relief valves for the cylinder end covers.
Arrangements have been made for fitting the liners into the steam chests by shrinking them in liquid nitrogen, inserting them into the bores and as they return to ambient temperature they will lock themselves in place. 82045 is likely to be moved temporarily to a different location within the erecting shop to enable this process to take place where there is more room around the front end of the loco than in its present position.
The water tanks have been moved around in order to make the outside surfaces accessible for painting.
The boiler barrel which has been upside down on a wagon for some time has been rotated to the correct way up to allow for a trial fitting of the dome flange in the near future. The dome is being manufactured by Mendip Steam Restoration Ltd. of Farrington Gurney.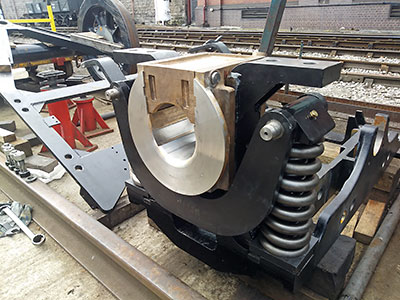 Pony truck axlebox trial assembled in the pony truck framework. The pony truck is being built upsidedown at this stage. Photo: Peter Line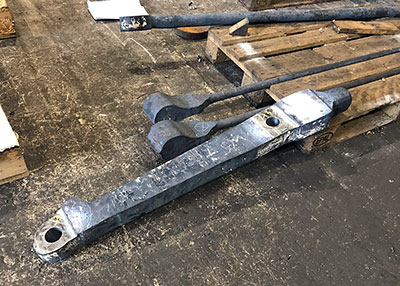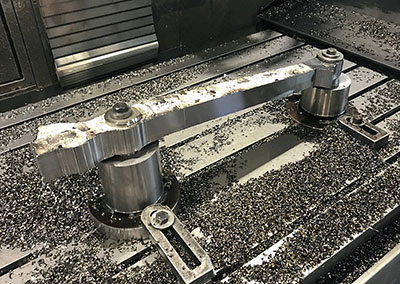 Combination lever forging and machining. Photos: Robert Stephenson.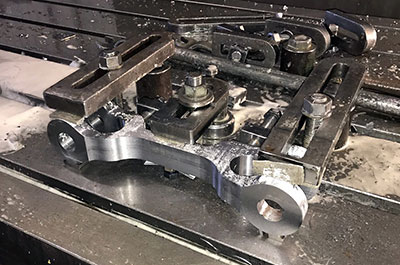 Union link machining and finished component. Photos: Robert Stephenson.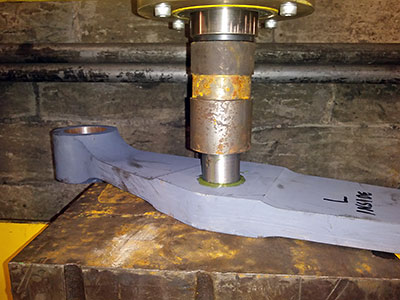 Bush being pressed into a brake block hanger. Photo: Peter Line