News Update - August 2017
Engineering notes
At the end of July the left hand water tank was looking largely complete apart from the open end at the cab end. However the back sheet, uppermost in the pictures, was only tacked together at the time. The right hand tank was in the early stages of construction. We are not in a great rush to receive these items at Bridgnorth as storage is currently a problem for large components.

The axleboxes for the leading wheels now have the manganese liners welded on with machining set to follow. The trailing pair are undergoing machining of the horn faces to prepare them for welding of the liners.

Drawhooks and screw couplings have been received from Stephenson Engineering and are now fitted to the buffer beams.

We have removed the smokebox from its saddle again to enable the cylinders to be removed for cleaning of joint faces and removal of swarf following the reaming of the bolt holes. We now have the 1 1/8" BSW fitted bolts ready for installation.

South Devon Railway Engineering have pressed a very fine looking throatplate for the outer firebox out of one sheet of steel, which means most of the firebox is now available in kit form.

A number of significant components of the driver's reversing mechanism have now been manufactured and also the crossheads have been cast with machining about to commence.
Publicity and Fundraising
Look out for a bit of a splash in the forthcoming issue of one of the leading hobby magazines. This will include, amongst other things, an appeal leaflet which we hope will succeed in bringing in some new support for 82045: the project is in excellent shape on all fronts but none of us can afford to be complacent, and there is still some pretty expensive stuff to be financed. Keep your fingers crossed that the exercise has the desired effect!
While all this is going on, we also need to have an eye to the future of the locomotive, and for this reason will be launching The 82045 Future Fund on the occasion of Paul Anderson's memorial train on October 6th (see Barbara's notes in these Updates for further information about the special train). The Future Fund has a dedicated new account under the charity umbrella, and further details will appear in the near future. The aim is to try to ensure that 82045 enjoys a long and - above all - active life, and we believe it is best to remain as independent as we possibly can. Please get in touch with Chris if you'd like further information.
A Letter of Appreciation
As one whose engineering skills do not go much beyond recognising which end of a screwdriver to hold it was good to see some appreciative comments in the last e News on the work of the 82045 engineering team. As a very ordinary member with a lifelong non-engineering interest in railways I have watched the growth of 82045 with interest. Every time I visit Bridgnorth there seems to an extra bit of equipment or fitting bolted on to the frames, some I recognise and understand, many I do not and a patient engineer has kindly explained their function and significance.
So from an armchair supporter I add a very big thank you to our engineers. I am constantly amazed by their skills, often working in that open outdoor workshop as 82045 progresses steadily and is really becoming recognisable for what it will be. Like many I look forward to the day 82045 enters service and I hope I might be on the inaugural train. Many years ago I was talking to the chief engineer of a hospital at which I worked; he was very appreciative of the skills of the hospital's surgeons, but he said "They can't function unless my engineers produce steam" - we cannot do without engineers so when the inaugural train steams forth I hope too that we might all remember who built 82045 - men (I haven't seen any ladies) with huge engineering skills and dedication - thanks to them all.
Tony Cousins, 6th August 2017
Tony's letter is much appreciated by all at 82045 – thank you Tony.
Waterloo Sunset
We are delighted to announce that after some doubt we are going ahead with our special train on 6th October. Tickets are £30.00 and we promise you an entertaining day. Bridgnorth buffet will be open from 8.30am for breakfast and drinks. Lunch and entertainment is included in your ticket at Kidderminster. There are plenty of seats available so do get in touch if you would like a day out riding behind Taw Valley. Full details are on our June update. Tickets and a programme will be sent to you as soon as they are available and will be in good time for 6th October. We do need to place an order for our lunches by mid September so please book your tickets as soon as possible. Thank you.
SVR Autumn Steam Gala. 21st – 24th September
Unfortunately Tony and Barbara will not be able to attend the gala this year so there will not be a sales stand at Bridgnorth. However, Chris will be beside 82045 and will be delighted to meet and greet supporters and there will be a sales stand at Kidderminster in the very capable hands of John.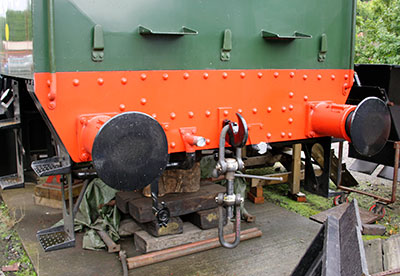 The drawhook and screw coupling on the rear buffer beam. Photo: Tony Massau.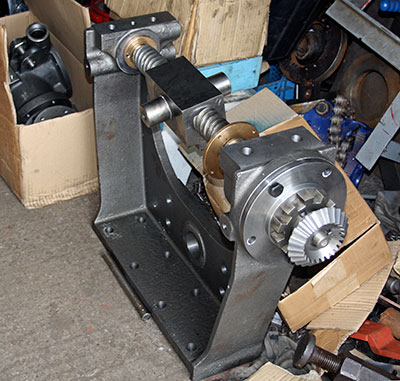 Part of the driver's reversing mechanism. Photo: Tony Massau.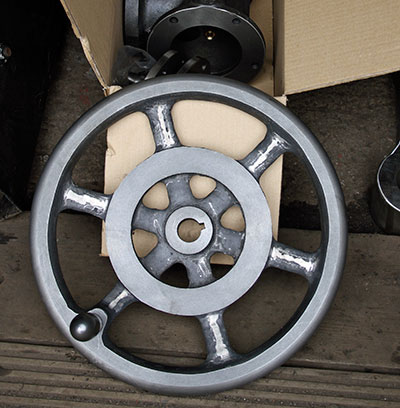 The handwheel and gearbox (in the cardboard box) for driver's reversing mechanism. Photo: Tony Massau.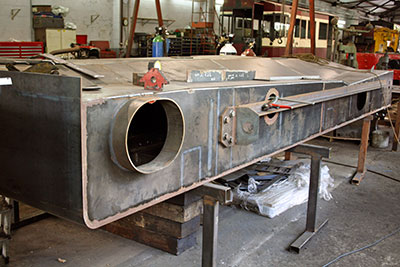 Left hand tank looking from front to rear. Photo: Tony Massau.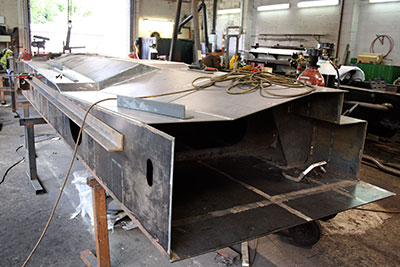 Rear view of left hand tank. Photo: Tony Massau.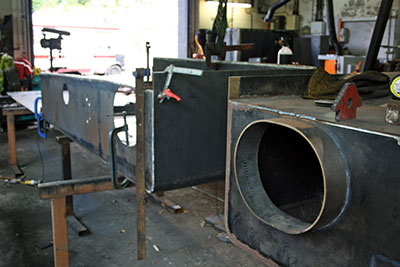 The right hand tank in early stage of fabrication with the more complete left hand tank in the right corner of the picture. Photo: Tony Massau.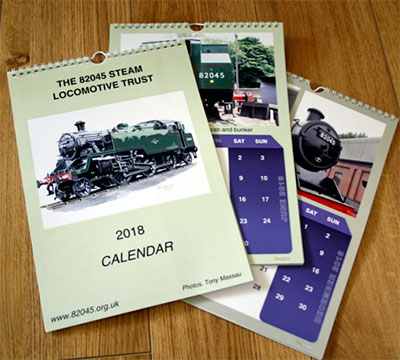 Our 2018 calendar is now available at the same price as 2017 - £6.00 + £1.25 p&p. Please send your request and cheque payable to The 82045 Steam Locomotive Trust (SLT is fine) to Barbara. Copies are limited this year as too many were wasted last year so don't be disappointed and get in touch!