Engineering notes
By Tony Massau
We were allowed back on site at Bridgnorth on Easter Monday after an absence since Christmas. At present we are only working on Saturdays as there are still virus protective measures in place when the full time engineering staff are present during the week. We have resumed work on the pony trucks from where we left off some months previously. The front truck had been on its wheels during the lockdown period but upon our return we briefly lifted the framework off the wheel set to make a minor adjustment to the top of the axleboxes and then placed the framework back on to the wheel set. The springs have recently been fitted. The front pony truck is a little more advanced than the rear one at present. The build of the two pony trucks has involved a lot of specially made bolts for fitting into reamed holes, essential and time consuming work which does not make for eye catching progress.
Cylinder and steam chest cladding manufacture continues.
The full time staff have continued to make progress with the firebox build and with some machining work on injector components and oil trays for pony truck lubrication.
Publicity and Fundraising
By Chris Proudfoot
Wow, we've got some wonderful supporters. After last month's note about March donations, I am pleased to report that there are, once again, cheques on my desk, this time to the tune of nearly £6,000. All of these have come in during April. It would be invidious to mention names, as so many of you have been so generous over the life of the 82045 project, but thanks so much.
I am absolutely determined to do all I can keep your engine financially independent and not have to rely on any other body outside the Trust to ensure that this remains the case for as long as possible.
The 82XXX in BR Days
Last month's shot of 82044 at Temple Meads certainly stirred up some interest, with a couple of dozen replies from erudite readers.
The answer to the question regarding this loco's oddity is twofold: firstly, the power classification, which on 82044 was mistakenly upgraded to a 4 (one member suggested it was turbo-powered - like it!); secondly, and uniquely to the class, the number was applied to the cabside - as was the case with the Ivatt and Riddles class 2 tanks - rather than the bunker. As always, there was someone out there who knew exactly what had happened, and in this case it appears that 82044 was outshopped from Crewe Works in April 1963 in this style, perhaps because Crewe were not accustomed to the 82XXX. Anyway, many thanks to all those who responded: I enjoyed the craic very much!
This month's pics are less mysterious. The first, sent by Neil Evans, shows old and new order motive power on the Cambrian, with an immaculate 7801 Anthony Manor keeping company with my old friend 82021 at Barmouth. The 82XXX arrived on the Cambrian in 1962/3 to work stopping passenger services as replacements for ageing ex-GWR types (Small Prairies and 'Dukedogs', for example). It is a tribute to the competence of the Riddles tanks that Machynlleth crews overcame their initial distaste for the foreigners and turned in some belting performances with them until they were allocated away, mostly to Nine Elms, in 1965/6.
The second shot, courtesy of Ivan Whitehouse, was taken by Mike Redmayne and shows 82006, nicely fired up and ready for action, at Waterloo, the last stronghold of the class. Although unlined, the engine wears WR-style green livery with the yellow RA disc prominent on the bunker. It had been transferred from Machynlleth to Nine Elms, where it remained until it was withdrawn in 1966, still with years of useful working life in it.
Lots more pics for you - more to follow next month!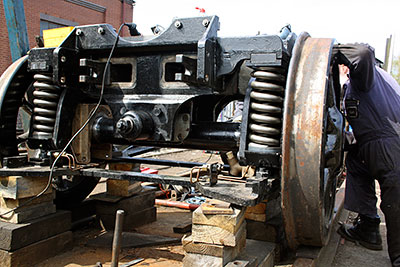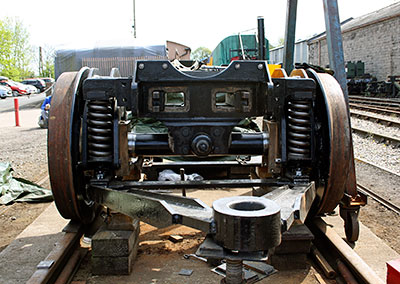 Two views of the front pony truck showing the newly fitted springs. Photos: Tony Massau.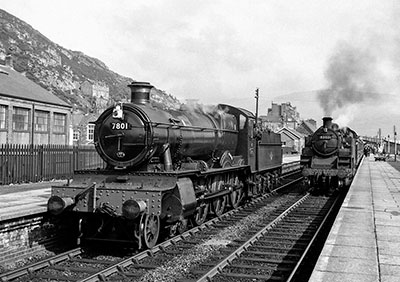 82021 with Manor 7801 at Barmouth station. Photo courtesy Neil Evans. Click the image for a larger view.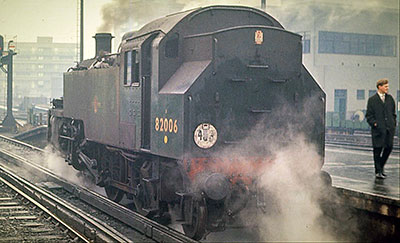 82006, nicely fired up and ready for action, at Waterloo. Photo by Mike Redmayne, courtesy of Ivan Whitehouse. Click the image for a larger view.